Stickers and decals für 125cc motorcycle
Riding a 125cc motorcycle is more than just a hobby - it's a way of life and a sense of freedom. That's why many bikers love to give their own bike a very personal character by giving it an individual look. In the Radical Racing online store you can find decals for the 125cc motorcycle, which make your machine unmistakable. We offer a wide range of decal kits and statement stickers for your 125cc Yamaha, Honda, Aprilia, KTM, Kawasaki and many other models. Wähle the right decor set to give your bike quickly and cheaply a new look.
Decors change the whole look of your moped and with little effort. There are now many decals on the market for eg KTM Duke 125 and Yamaha WR 125. In addition to the optics, the quality also plays an important role in decals for motorcycles. The stickers must be weather-resistant and have an exact fit so that there are no problems when applying them. In addition, good decals should not leave any permanent Rückmarks on the paint or even pull the paint off the motorcycle.
Unique design: decors für the 125cc motorcycle
.
Small, universally applicable stickers, complete decals for the 125cc motorcycle, stylish tank pads, noble carbon films or even original rim edge stickers - this diverse selection is available to you in our online store to give your machine a special appearance. Do you prefer small and fine accents or do you want to give your motorcycle a completely new look? With the decal kits everything is definitely possible. You can apply small stickers to any part of your motorcycle. In addition, there are complete decoration kits for your 125cc motorcycle available. With this kind of decor set your machine gets its own personality.
Quality of decors
.
With decors of well-known brands is usually not spared on a good adhesive. We also use very high quality glue for the decors of Radical Racing. This reduces, especially for beginners who apply the first time a decor on their vehicle, lästige intermediate steps. Whether it is an Aprilia SX 125, Beta RR 125 or Yamaha YZF-R125.
.
Bonding decals correctly
Applying a decal is very easy with the good, high-quality adhesives mentioned above. Normally, these adhesives can be deactivated with an emulsion of water and spüli. Thus, the decor is quickly, easily and perfectly placed on the trim piece. If the water is then wiped out of the adhesive with a felt squeegee, it becomes solid again and the decor can be glued. A felt squeegee is generally indispensable when applying decors. It protects the lamination and bubbles can be squeezed out easily.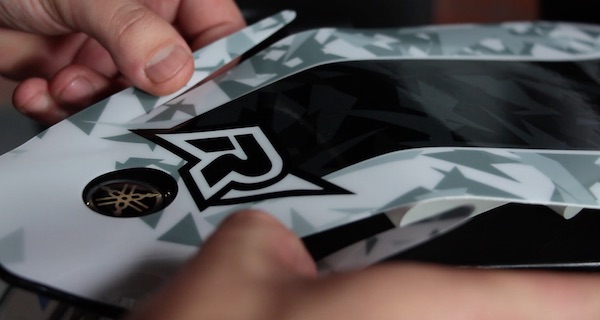 Motorcycle decor für your 125cc Yamaha
With the decor kits für your 125cc Yamaha you can give your bike a cool and sporty look. In a decor set tailored to your model, you'll find all the stickers you need to give your bike an all-around upgrade.
Decor Set für your 125 Honda
In our store you will find many decals für the 125cc motorcycle from Honda. You can choose between many small stickers and complete decal kits exactly what suits you and your bike best.
Decors for the 125cc motorcycle from Aprilia
.
Witty, sporty or elegant - the choice is yours. We offer you a wide selection of decals and decor sets for Aprilia motorcycles. You decide which decals give your bike exactly the look you want.
Motorcycle decor für your 125cc KTM
You want to tune the design of your machine a little? No problem. With the Dekorkits für your 125cc KTM you can give your bike a whole new look. Bring color to life with the stickers and set accents or clear statements with small stickers.
.
Decor kits for your 125 Kawasaki
Mainstream can anyone, but you are an individualist - just like yourself you should also present your bike. With a motorcycle decor for your 125 Kawasaki you clearly show that you do not swim with the crowd, but against the current. Bravo, so you do everything right.
Decors für 125cc Motorräder other brands
Naturally, we also carry in our store motorcycle decor für 125cc motorräder other brands. Numerous stickers are universal or can be adapted to your bike with a few simple steps. Best you just stöberst times through our assortment and choose the sticker or a decor set that gives your bike the finishing touch.
.
Easy installation of the decals für the 125cc motorcycle
.
Small stickers are of course easy and quick to stick on your bike. For a complete motorcycle decor you should take some time and the easy to understand instructions to Gemüte führen. This way you can make sure that all stickers are in the right place and that no blisters form under the foils.