CNC parts on the motorcycle
.
Generally you have with CNC parts the Möglichkeit, with least expenditure an individual look at your Motorcycle to create. Parts such as, Öleinfüllschrauben, brake cylinder cover, Kettenschützer or even sprocket cover & motorcycle covers from CNC are mounted or replaced in a few minutes. Still compared to a tuning exhaust system or a larger cubic capacity kit, significantly cheaper.
Apart from the erwähnten points CNC optics parts offer a much higher quality appearance than the standard parts. We ourselves offer our own parts from Radical Racing only after strict quality control. So we check not only fit and visual effect, but also the function! For example, the brake cylinder covers have a hole to prevent a vacuum in the reservoir, just like the original cover. Cover no vacuum in the Behälter can arise.
In addition, there are also a variety of different Colors, so you also have the right CNC parts to match the color of your motorcycle. Be it the typical KTM orange, or the blue "Race blue" of Yamaha. You are looking for yellow parts für your Suzuki, or Husqvarna? Need the parts in green for your Kawa? No problem. Talk to us. With appropriate Demand we can also realize other colors.
Brake & clutch lever sets
CNC milled and anodized aluminum levers are also very popular. Brake and clutch levers fall from from the outside sometimes as the first notice and you have them even when driving constantly in view. Beautiful CNC levers with the matching color also enhance the motorcycle considerably. Especially if you have an original lever from KTM or Yamaha with a CNC lever compares.
.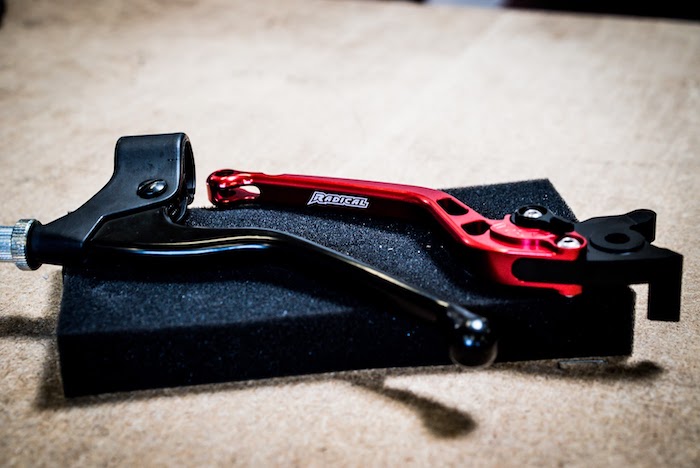 (Comparison Yamaha YZF-R 125 original lever & Radical Racing CNC lever)

In addition to the appearance is the Comfort of the levers enormously important and is often underestimated. We make sure of course that our levers do not contain any sharp edges and also offer an individual 6-step adjustment of the levers. adjustment of the levers. So you can choose for yourself which lever angle is most comfortable for you. comfortable. Especially with well-known brands such as Puig, V-Trec or of course Radical Racing, you can be sure that the levers are that the levers offer a comfortable ride and appealing feel even on longer distances. feel. Our as well as the levers of most of the above-mentioned manufacturers MÜSSEN a so-called predetermined breaking point built-in have. This is important so that your fingers are not crushed on the handlebars in the event of a fall.
.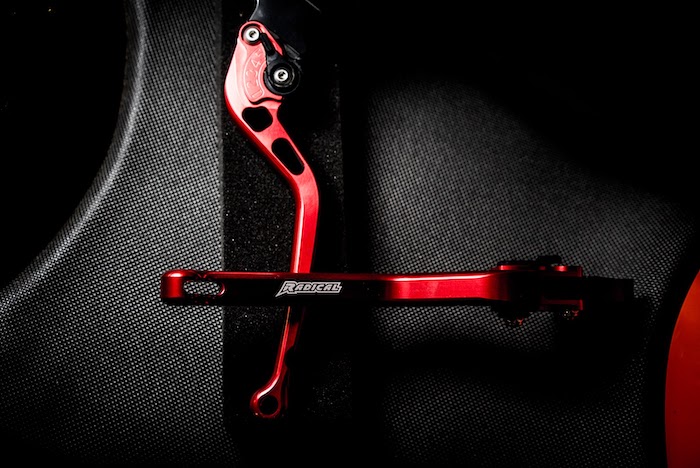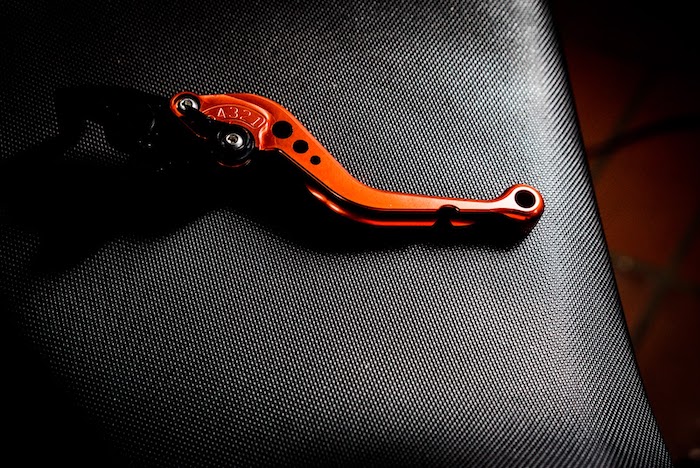 The assembly of the levers is really an absolute child's play and needs usually only 10 minutes, even für unskilled. Durchführen you can do the assembly in any case alone.
Levers there are today meanwhile for all possible machines, such as the Yamaha MT 125, Yamaha WR 125, Yamaha YZF-R 125, KTM Duke 125, KTM RC 125 & Honda CBR 125.
Further examples für CNC parts on motorcycle
.