Motorcycle turn signals
The original turn signals of your motorcycle are usually much too big; and stick out much too much. We know this problem. That's why turn signals are one of the first parts you can replace when custom tuning. Since turn signals are also about safety, they should have an E-mark. This means that the accessory turn signals have been tested in an EU country for their conformity in road traffic and guarantee sufficiently good visibility. You can of course also mount turn signals without an E-number, but we advise you not to do so. Because the TÜV also checks whether they are clearly visible and functional.
LED turn signals fürs motorcycle
Almost every accessory supplier, whether Motoflow, Shin-Yo or Koso now exclusively offers LED turn signals. LED turn signals offer the great advantage of the freely designable turn signal shape. The reason for this is that the turn signal does not require a good illumination of the shape, as is the case with bulbs. In addition, LED's are freely selectable in light color. This in turn means that an orange tint does not have to occur through the glass or a colored bulb. The disadvantage, however, is the significantly lower operating voltage, which varies depending on the LED and must be adjusted in advance in the flasher by appropriate electronics to 12V. Furthermore, the significantly reduced power consumption (wattage) is a small disadvantage that must be compensated by resistors.
.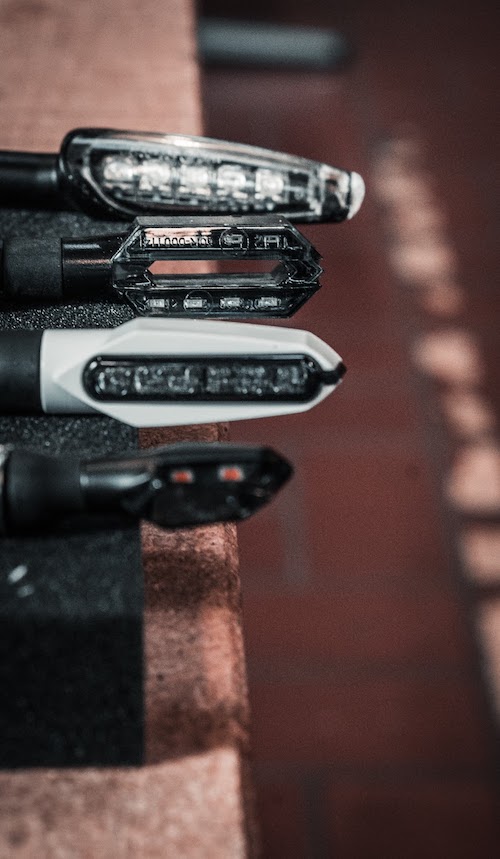 Conventional motorcycle turn signals
The conventional kind, as turn signals are known. These turn signals are usually equipped with 21 watt bulbs. These are available in different Ausführungen. So make sure when replacing the bulbs that you auswählst the right bulb base with us! The operating voltage is 12 volts, as with the rest of the electrical system.
.
Resistance & Relay
.
In almost all vehicles, the actual flashing of the turn signals üis controlled via an electrical or electronic relay - the electrical power, which results from the resistance of the bulbs and the absorption of voltage & current. However, some cars and also more and more motorcycles now have electronics installed in a control unit for the entire lighting system. Since it is not possible to replace these electronics with a load-independent relay, a resistor must be connected in front of the LED turn signals, which have a significantly reduced output. So the Steuergeräte or even ältere relays do not notice that the turn signals were replaced.
The following you should note when changing:
EACH turn signal is ONE resistor to use. These MÜSSEN be ordered separately!
If the relay is changeable, pay attention to the number of pins!
Vehicles with ONLY a common turn signal- control light für both sides usually have TWO pins.
Vehicles with EACH a control light für right and left usually have THREE pins!
However, it is best if you check before.
A little tip on the side
It happens that the turn signals fog up and the water then simply no longer evaporates. Simply unscrew your turn signals and put them in your oven at about 50°C, then the water should have evaporated. Then, when you find the leak, you can seal it with silicone compound.
Legal requirements for motorcycle turn signals
Without laws it does not go here, so there are some specifications that your new motorcycle turn signal must meet. It is a dry subject, but still important. The flashing frequency must be 90 cycles per minute. There is a tolerance of +/- 30 here. Approved turn signals for the front bear the code numbers 1, 1a, 1b or 11. Turn signals approved for the rear can be identified by the code numbers 2, 2a, 2b or 12. Turn signals that are approved for both the front and the rear have two code numbers. Turn signals approved for use in the EU must have a distance of at least 240 mm at the front, while a distance of at least 180 mm is prescribed for the rear turn signals. The height to the road must be between 350 mm and 1200 mm at the front and rear. For bikes built and registered before 1998, the old dimensions still apply, which are as follows: The distance between the turn signals must be at least 240 mm at the rear and at least 340 mm at the front. There must be a distance of 100 mm between each and the headlight. For these older bikes, too, the minimum distance between the turn signals and the road is 350 mm. All these dimensions apply both to normal motorcycle turn signals and to modern LED turn signals.
E mark on motorcycle turn signal and motorcycle headlight
.
With the E-mark you are always on the safe side, because this mark indicates that the motorcycle turn signal, the LED turn signal or the light is approved in the EU. This saves you from having to carry additional papers or certificates. So you will have no problems at the TÜV or in a police check. Of course, you are free to build parts without E-Print number on your bike, but then you have to expect that you will be asked to return everything to a legally compliant state during appropriate inspections.
.
For your 125 Yamaha: motorcycle turn signals and motorcycle light günstig buy
.
In our store you will find a variety of turn signals, LED turn signals and motorcycle lights that give your bike a new look. Just look around at your leisure in our store and überlege you, which lights your machine best stand.
.
For your 125 Honda: motorcycle turn signals and motorcycle lights buy cheap
.
Give your 125 from Honda a whole new style. With a new Motorradrücklicht and chic turn signals you can pimp your bike with a few resources. Both the quality and our price-performance ratio will convince you.
For your 125 Aprilia: motorcycle turn signals and motorcycle lights buy cheap
Quality does not have to be expensive. Motorcycle turn signals and a new motorcycle light you will find in our store even for the small purse. We offer the best conditions with low price guarantee.
For your 125 KTM: motorcycle turn signals and motorcycle lights buy cheap
.
You want to give your 125cc KTM a lift? The easiest way is with a new motorcycle rücklicht and cool turn signals. You'll see that even these small changes will give your bike a whole new look.
For your 125 Kawasaki: motorcycle turn signals and motorcycle light buy cheap
.
You are looking for a LED turn signal or a motorcycle light for your 125 Kawasaki? No problem! In our store you will find many different motorcycle indicators and lights that help your bike to more attention - and rightly so.
For 125 models of other manufacturers: motorcycle turn signals and motorcycle rücklicht günstig kaufen
.
Self-evidently, you will find in our range also indicators that you can install on your 125 from other manufacturers. Classic motorcycle turn signals, modern LED turn signals, a new motorcycle light - with us you will find what you are looking for. Since no wishes remain open.