handlebars, grips and levers fpr 125cc motorbike
The handlebar grips are the parts that you have constantly in your hand and über the control of the motorcycle, so comfort and feel are very important. In this regard, there are different rubbers. The advantage of a harder compound is that it gives a more precise ride, but it wears out or cracks more quickly. With a softer mixture it is then exactly the opposite.
.
Optical tuning on the handlebar
.
There are of course countless different optics, suitable for your model. For example, orange grips would be the typical choice for a KTM Duke 125, or KTM RC 125. Together with orange CNC levers, this is the perfect combination.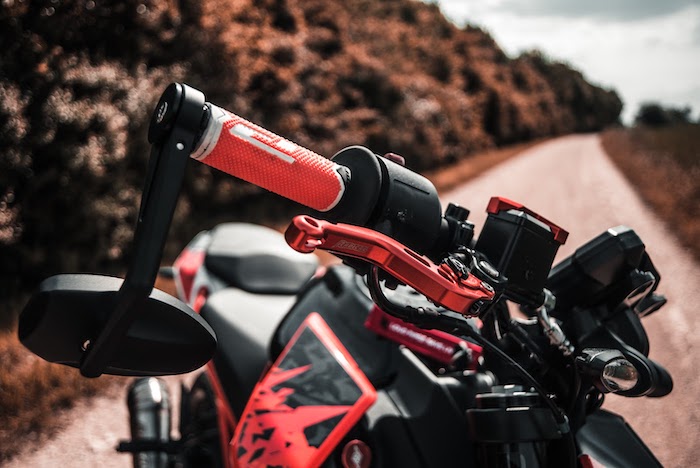 Or if you have a Yamaha YZF-R 125 in Race Blue look, blue grips paired with blue CNC levers and a blue CNC brakeöl cover would be the eye-catcher! The grips are usually also quickly changed. It should be noted that you can no longer use your old after the change, because you have to cut them open during assembly mostly müsst. With the new handlebar grips you spray hairspray in the grips and then stülpt them simply on the handlebars, time required about 15 min. BUT: Let dry well. On this subject, we also have videos on Youtube, in which we show you more precisely how it works.
The most popular brand für handlebar grips is Progrip. However, there are also many grips from other manufacturers such as Motoflow, Puig, LSL, Highsider, etc.
Mounting
The assembly of handlebar grips is very Simpel. First müssen the old grips are removed. Unfortunately, this is not possible with most motorcycles without damaging or destroying the standard handlebar grips. Best suited to cut open a sharp cutter knife.
The handlebar and throttle grip should then be freed from old glue or even grease and cleaned well. Note that the cleaning agents must also evaporate well müssen. Otherwise, the new grips will not hold.
The new handlebar grips should then also be cleaned. To do this, it is best to use a little brake cleaner and sprüht once crisply through the handles through. Here, too, the rule is: Let it drain well. Once all the parts have been cleaned, we prefer to use hairspray. The stickier the better! Simply spray any amount into the open handle ends, push the handle über the handlebars and turn into position. Then it's back to resting and here, the longer the better. The handle hält at the end bombproof on the handlebars.
Can the handlebar grips still turn is the hairspray is not completely abgelüftet and the adhesive has not yet activated. In this case, simply pull off the handle again and re-spray.
With a motorcycle handlebars change the design of your 125
.
With the motorcycle handlebars you show your bike which direction you want to take. At the same time, the handlebars also influence the look of your 125cc machine. So you can significantly change the look of your motorcycle with the exchange of the handlebars. Grips and levers in bright colors or new striking and curved shapes also emphasize the character of your 125cc machine. You want to lie a little flatter when riding or pull the handlebars on your Enduro even higher? All this is possible with an appropriate handlebar without any problems. The exchange is simple and done with a few simple steps.
Tips and hints about grips and levers
.
If you want to replace the grips and levers on your 125, there are a few things you should keep in mind. Grips with a firmer rubber compound are comfortable to handle and give a very precise driving feel, but wear out faster than grips with a softer rubber compound. These do not crack as quickly, but you have to get used to the feel. Ultimately, it is also a question of your personal taste, which handles and levers come into question for you. There are many variants of handles and levers to choose from. Finally, these parts are style elements that significantly change the look of your bike. Especially cool and eye-catching are colorful grips and levers in the color of your bike. Alternatively, you can also choose colors that stand in stark contrast. Let your imagination run wild and give your machine a makeover of a special kind.
Motorcycle handlebars for 125 Yamaha günstig kaufen
You are looking for a motorcycle handlebar, matching grips and levers für your 125 Yamaha? Then you are exactly right in our store. Here you will find a variety of models that give your bike a new and individual touch - and even at conditions that are easy on your wallet.
.
Buy handlebars, grips and levers für your 125 Honda cheap
With a new motorcycle handlebars you show that you pay great attention to detail on your bike. Just look around in our assortment and choose exactly the parts that fit you and your 125cc motorcycle best.
For your 125 Aprilia: motorcycle handlebars, grips and levers buy cheap
.
We offer you numerous motorcycle handlebars, grips and levers for your 125 Aprilia, with which you can change the look of your machine and pimp. High quality does not have to be expensive. With us, the price-performance ratio is right, so we even give you a low price guarantee.
.
Motorcycle handlebars for your 125 KTM buy cheap
Whether for the road or for the race track - with us you will find exactly the right handlebars for your 125cc machine. Give your bike a top class makeover and show that it has its very own personality. For this you do not even have to dig deep into your pocket, because with us you can buy all handlebars cheaply.
Motorcycle handlebars, grips and levers for your 125 Kawasaki buy cheap
.
Even sportier, faster and more casual - with a new motorcycle handlebars can be decisively influenced the design of your machine. Just look for the handlebars in our store, which meets your needs and ideas.
Handlebars, grips and levers for 125cc motorcycles from other manufacturers
Naturally, we have in our assortment also motorcycle handlebars, grips and levers for 125cc motorcycles of other manufacturers. Take your time to look around our store and you will surely find what you are looking for. Our offers are so varied and diverse that no wishes remain unfulfilled.