The perfect license plate holder for the motorcycle
.
The original license plate holder is a thorn in the side of most. For example, the license plate holder of the KTM Duke 125 and Yamaha YZF-R 125 is almost half the size of the whole motorcycle! Therefore, a short license plate holder that is as invisible as possible is simply a must for anyone who wants to change something on his motorcycle.
As für pretty much everything there are also für license plates on the bike legal requirements. But there is also good news, because as a rider of a 125cc bike you can use the small license plates. These are much more inconspicuous than the large license plates and can therefore be easily integrated into the look of your bike. Many manufacturers still deliver the large license plate holder from the factory, so it is often one of the first parts to be replaced.
This is what the law says about motorcycle license plates
.
In order to be able to ride your 125 not only on the racetrack, but also on public roads, you need a license plate with matching license plate holder on the motorcycle - clear thing! The license plate must be clearly visible on the rear of your bike with the license plate holder. It must not be covered, taped off or altered in any way. There is also no tolerance, because it is important that everyone who participates in road traffic like you can be identified perfectly. The license plate is therefore the business card of your bike.
Officially, according to §2, paragraph 10 of the Vehicle Registration Ordinance, all motorcycles with a displacement of more than 50 cc up to a maximum of 125 cc and a maximum rated power of 11 kW can get special license plates. A normal license plate for a light motorcycle normally has dimensions of up to 280 mm in width and up to 200 mm in height. However, these license plates are very impractical on a bike and leave a strange impression when viewed from the rear. Therefore, in 2011, the legislature enacted a new special regulation for lightweight motorcycles. Now you can choose between different license plates. In width are 180 mm, 200 mm or 220 mm, in height are 200 mm allowed. Such a small license plate looks much better on the motorcycle, and you no longer have the feeling of dragging a board behind the seat with you. A short license plate holder and a small license plate simply make a much sportier impression.
Summarized hei;t that:
The new license plate holder should have an exact fit, so that no additional Löcher be drilled into the fairing müssen when mounting. The tilt angle should be adjustable, with a maximum tilt angle of 30 degrees from the vertical. Anything above this is no longer completely legal and can lead to a warning from the race organizers.
.
The quality of the license plate holder
.
A license plate holder of good quality, should also be powder coated, so that this is weather resistant. That is, does not rust and is not susceptible to scratches by various stone chips. It is also important that the angle (as already mentioned) and certain distances, such as between the turn signals, are correct. The upper edge of the sign should be a maximum of 120 cm and the lower edge at least 30 cm above the ground. The regulations also state that motorcycle license plates must be illuminated, which means that you can reinstall your old license plate lighting or replace it with LED lighting, which looks much better and more modern at night.
Number plate tuning examples
Original license plate holder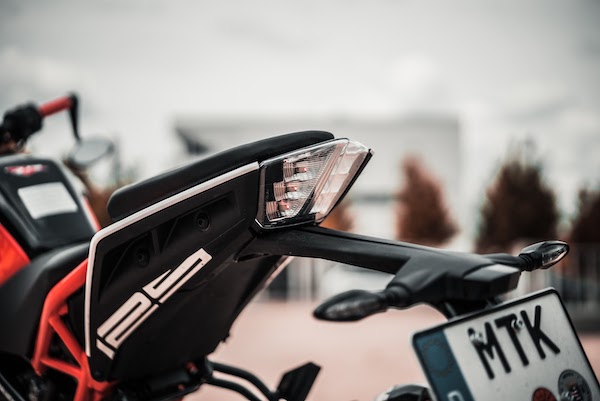 Yamaha YZF-R 125 year 2014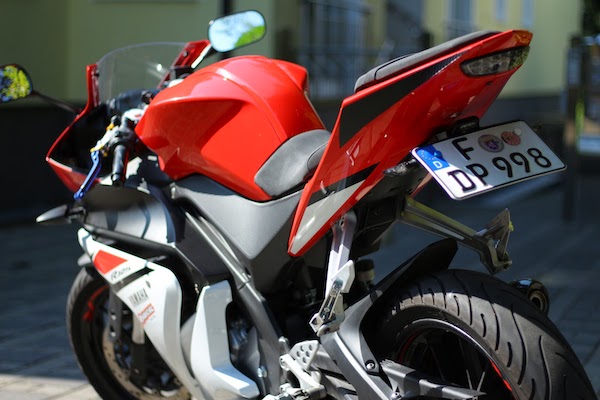 KTM Duke 125 from year 2017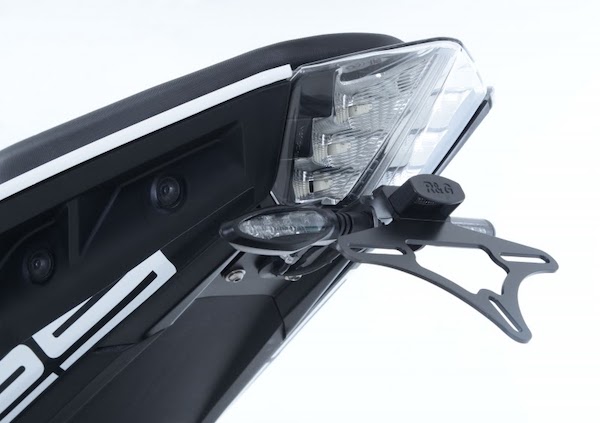 Short license plate holder für the 125cc Yamaha
If you need to replace your license plate holder on your motorcycle, you will quickly find it in our store. We offer you a wide selection of license plate holders for your 125 Yamaha, which can be attached to your bike with a few simple steps. You also save money, because we give you a low price guarantee.
Buy cheap license plate holder for your 125 Honda
Your 125 Honda needs a lift at the rear? No problem! With us you can buy your new license plate holder cheap and install without great effort. A short license plate holder on the motorcycle is simply much more practical and even more stylish than a large license plate holder.
Short license plate holder for the 125 Aprilia
Large license plates are out, small license plates and a short license plate holder on the bike are in! If you feel the same way, then it's time to replace your license plate holder on your 125cc bike. We offer you many different models, so you can choose exactly the holder that best suits you and your bike.
Buy cheap license plate holder for your 125 KTM
The license plate holders, which are available in our range for your 125 KTM, can be quickly and easily mounted on your machine. So you leave a perfect impression when riding from behind. The license plate holders for the motorcycle are made of high quality and yet cheap, because we give a low price guarantee. So no wishes remain open.
Short license plate holder für your 125 Kawasaki
.
The smaller, the better - this is not true for all situations in life, but when it comes to the license plate holder for the motorcycle already. If you prefer to switch to a smaller license plate, then we have the right license plate holders für you, which you can buy cheap. Just take a look around our store, then you can freely decide which holder is the best solution for you and your bike.
Brief license plate holder for other manufacturer's motorcycle buy cheap
.
It goes without saying that many of the license plate holders we offer can also be used on motorcycles of other brands. When gemütlichen Stöbern in our assortment you will certainly also find the für you suitable holder für your license plate.
.